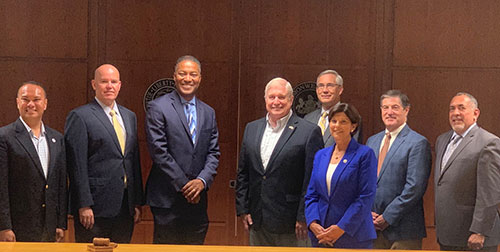 SCHUYLKILL RIVER PASSENGER RAIL AUTHORITY
In June 2022, the County Commissioners of Berks, Chester, and Montgomery Counties unanimously voted to establish the Schuylkill River Passenger Rail Authority (SRPRA). The SRPRA board includes three representatives from each County. The representatives from Berks County include Commissioner Christian Leinbach (SRPRA Chairman), Reading Mayor Eddie Moran, and Jim Gerlach, President & CEO of GRCA. Tom Frawley serves as the Executive Director for the authority.
The SRPRA meets on the fourth Monday of each month at 3 pm and the public can view the meetings through the www.gosrpra.com website. The SRPRA is currently waiting for a decision from the Federal Rail Administration to be selected into the Corridor Selection & Identification Program for the expansion of passenger rail that was create under the Investment in Infrastructure & Jobs Act in 2021. The SRPRA is currently negotiating with the freight rail operator Norfolk Southern and passenger rail operator Amtrak.
In 2022, Amtrak also initiated a passenger bus service between Reading and Philadelphia with a stop in Pottstown that is currently serving the community. The passenger bus service is separate from the passenger rail project and is not being used to justify the establishment of passenger rail. 
OUR OBJECTIVE: The restoration of the passenger rail service will not only provide additional travel options to alleviate congestion of the US 422 corridor and the regional road system, but will also have significant economic and community development opportunities. It will help revitalize the communities along the corridor, including the Greater Reading region.
Why is restoring passenger rail service so critical? Studies show there would be increased employment, property values would increase and the core of our community would be strengthened. In addition, it will help create a sense of place and belonging. It is vital to our region's accessibility, job growth and overall quality of life. It will reduce travel time to Philadelphia, New York, Washington, D.C. and places in-between.
Critical Connector
Linking our region to other major metropolitan areas by:
Establishing a regional connection between Reading, Royersford, Pottstown and Phoenixville as well as other communities along the corridor.

Allowing passengers to move between these communities and major metropolitan areas like New York, Baltimore and Washington, D.C., as well as transportation hubs such as the Newark, Philadelphia and Baltimore-Washington Airports.

Connecting those outside our region to employment, entertainment and other activities in Greater Reading by improving access to the area. For example, the hundreds of medical students, residents, faculty and staff affiliated with the new Drexel Medical School can make use of this service.
Economic Driver
Driving commerce and economic prosperity by:
Playing a key role in moving people within the region
Promoting the expansion of regional business initiatives and the creation of new jobs
Providing convenient access to surrounding areas
For more information, contact Jim Gerlach, President & CEO, Greater Reading Chamber Alliance | (610)-898-7783
Passenger Rail Supporting Documents/Information:
Passenger Rail Service News: