The Greater Reading Chamber Alliance (GRCA) is your premier regional resource for professional development. We have been delivering professional development programs for over 20 years; we know a thing or two. It's easy to teach leadership concepts, the hard part is turning the learning into skills and behaviors that drive results, and that is where we excel.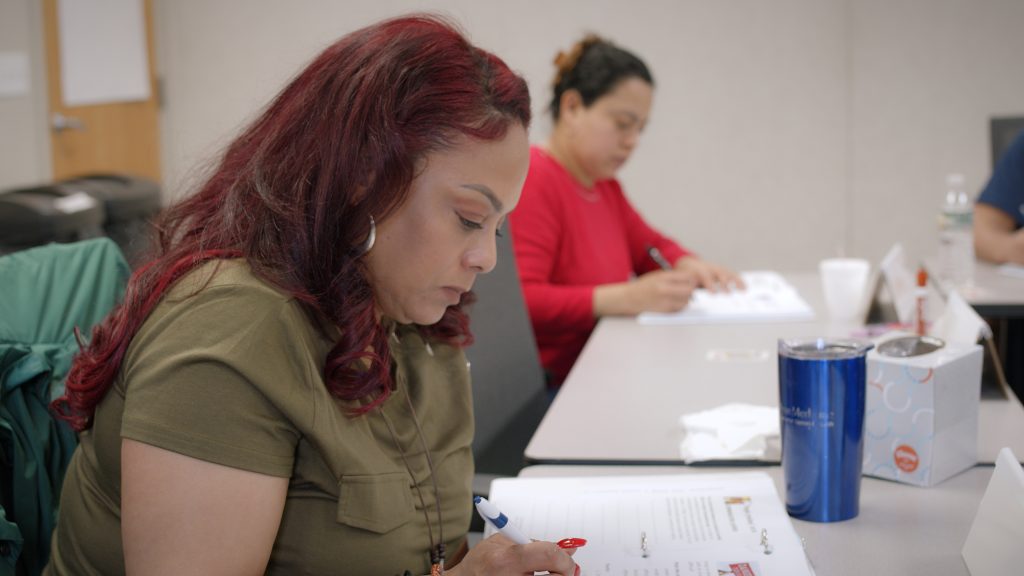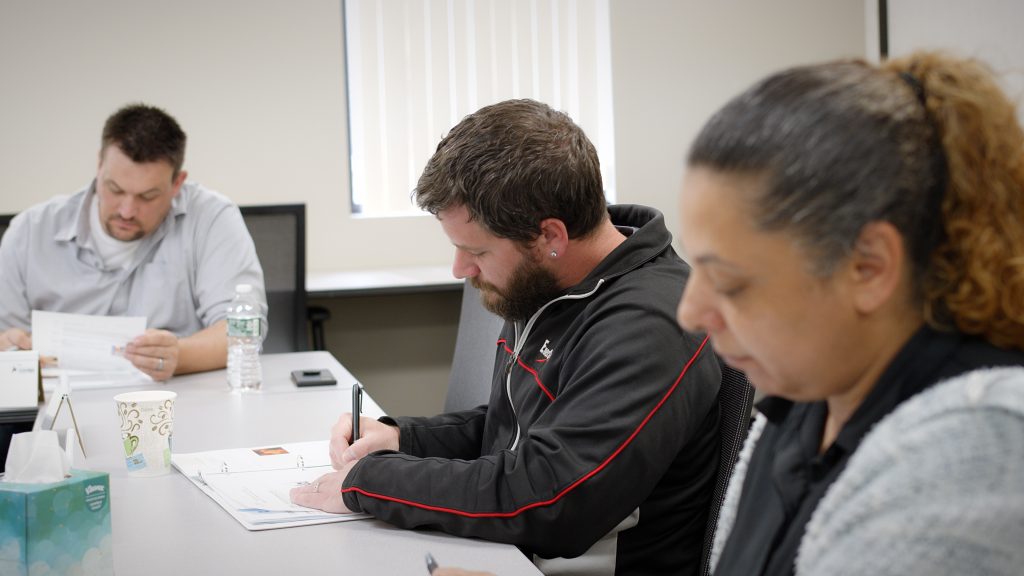 Our interactive programs are all about peer-to-peer learning, applying new skills and assessing how effectively new skills work for participants. Leadership development is not about a full-day event, but rather about learning new skills over time. This allows participants to test new skills and share what worked and where they need further development. Programs are available under a pay-as-you-go model affording you the flexibility to engage how and when it will be most beneficial for you.
Check out our Training Calendar to see when these programs are offered, or call 610.898.8386 for more information and to learn how to bring these program to your organization.
Lead Worker Certificate Series
Have great employees that are ready to take the next step into a lead role? Send them to the Leader Worker Certificate Program. This 12-week course will set them on the path to success by reviewing lead worker expectations, how to provide productive feedback and deal with conflicts as well as improving their work habits.
Reading Truck Body's James Templin said the program not only improved his problem-solving skills, but also his listening.
"I've learned to be more open as far as listening to the employee's statements
and assessing certain situations to solve problems that arise," he said.
Providing this training to your employees will not only improve retention rates, but it will demonstrate the clear career path that most are looking for when accepting a lower-level position. While this training is especially suited for those working in a manufacturing environment, it is applicable for workers in numerous industries who are looking to learn effective communication skills.
Learning objectives include:

Identifying key characteristics of an effective leader
Identify listening styles and how to adapt to communicate more effectively
Understand what motivates and demotivates employees
Recognize why employees underperform
Discover how to communicate with other communication styles
Determine what is important to your leader
Identify work habits, both good and bad
Explain why it's important to address poor work habits in team members
Compare constructive and destructive conflict
Use a six-step approach to address conflict
Recognize which form of communication to use in the workplace
Describe the benefits and challenges of a multi-generational workforce
Supervisor Training Module 1: Principles of Supervision
Hiring outside talent costs your company time, money and other precious resources. Supervisor Training Module 1 training allows your business to promote employees from within. In just six weeks, your employee(s) will discover the supervisor's role in management, how to understand groups and develop teams. The program also offers beginning guide to emotional intelligence, which similar programs don't cover. Attendees also take a DISC assessment, which provides common language employees can use to better understand themselves and those they work with to reduce conflict and improve workplace relations.
Unique Snacks' Erica Frazer learned how becoming a better listener creates a more cohesive team from attending the Supervisor Training Series.
"I have begun to become a better listener. I believe that if I take the time to work on becoming a better listener, my team will feel more heard and therefore become a better group of employees. I want my employees to know that the company and I care about their needs and concerns," she said.
Have employees who are ready to take the next step into a supervisory role or current supervisors who need the extra help sharpening their skills? Supervisor Training Module 1 will put them on the road to leading successful teams.
Session Topics for Module I include:

Supervisor's Role in Management
Understanding Yourself and Others (DISC)
Communication & Listening
Understanding Groups & Developing Teams
Emotional Intelligence Part 1
Emotional Intelligence Part 2
Supervisor training Module 2 – Managing Performance & Developing Employees
Developing your employees into strong, capable leaders takes time and resources that you and your leadership team may not have. Supervisor Training Module 2 will do that hard work for you. In the second, 6-week module, attendees continue their growth by further examining key skills of the supervision such as managing a diverse workforce, providing relevant feedback and how to communicate clear expectations.
R.M. Palmer's Perry DeJesus said that taking Supervisor Training Series significantly improved his communication skills.
"Communication has greatly improved over the last eight months. I have seen poor
communication skills, and I have started to work with my leads on letting production
workers know what is expected and also how to do what is expected," he said.
Turn your supervisors into better communicators; their entire team will reap the benefits.
Session Topics for module 2 include:

Managing a Diverse Workplace
Motivating & Recognizing Employees
Developing & Coaching Others
Delegating Effectively
Creating Performance Standards
Providing Performance Feedback
Supervisor Training Module 3 – Leveraging Workplace Relationships for Organizational Success
Difficult personalities and inefficient work habits can creep into even the most well-run businesses. Do your supervisors have the necessary tools to adequately handle those employees and situations? Supervisor Training Module 3 gives them the confidence and skills needed to handle those challenging issues that arise in every workplace. Attendees will take a deep dive into more sensitive supervising issues such as conducting performance reviews, effective disciplinary action and conflict management.

Dan Marshall, New Castle Lawn & Lawnscape, Inc. Partner/Operations Manager said the Supervisor Training Series is a critical piece in the success of the business.
"The GRCA supervisor training modules have been a huge help to our organization. The content is relative, instructors are knowledgeable, and the format is engaging. We have sent many of our division supervisors through this training and will continue to do so," he said.
Session Topics for module 3 include:

Conducting Performance Reviews
EEO & The Law
Effective Disciplinary Action
What's Wrong with you? Conflict Management
Communication for the 21st Century
Problem Solving & Decision Making
Essentials of Effective Management: Driving Organization results
Can your business managers be considered effective if they aren't meeting the organizations goals? The answer is obvious, but so is what your business can do about it. In Essentials of Effective Management: Driving Organizational Results, attendees will take steps beyond the basics of just influencing others. During this five-week course, they will be challenged to learn active communication, how to sell their ideas and lead across boundaries.
Hafer Petroleum's Shelby Hafer gained better listening skills, as well as how to be more present in her everyday interactions with employees from attending the Essentials of Effective Management program.
"I have learned to be more present in listening and conversation. With the many distractions
in today's world, this is something often and quickly forgotten. The feeling of being present during communication can truly make a difference in engagement," she said.
GRCA BREAKTHROUGH ACADEMY – Personal, Professional, & Leadership Growth 
3-month academy
Chamber members: $3,000/person
Future Chamber members: $3,700/person
Enrollment is limited to 8 individuals.
Providing an impactful, transformational learning opportunity that facilitates participant-specific "breakthroughs" is the inspiration for an advanced professional program. 
 
The three-month Breakthrough Academy—facilitated by Executive Coach, Tom Rhoads—creates a space for participants to feel supported as they let go of automatic reactive patterns and tendencies. They will take on courageous new ways of thinking, communicating, and being in situations personally and professionally in their journey and quest for mastery.
The Academy combines group sessions, one-on-one executive coaching, as a forum for addressing:
Aspirations
Goals
Objectives
Frustrations (e.g., feeling stuck or overwhelmed)
Extraordinary growth
The Breakthrough Academy will challenge participants to expand their thinking patterns, and their beliefs about what is possible, and take full accountability for their learning and results.
Why the Breakthrough Academy?

A key aspect of the Breakthrough Academy is "the breakthrough." The new results that each participant is committed to achieving through their investment in themselves and the Academy. The work of personal transformation requires a commitment that is often deemed unreasonable by people who expect traditional training and development program approaches yet withhold the personal commitment to take themselves on in the process. The inner work of observation, reflection and intentional creation and implementation of growth plans provides extraordinary learning, results and sense of freedom that can be replicated and sustained in other areas of participants' life and over time. 
Essentials of Effective Leadership
Great leaders need to constantly sharpen and improve their skills. Companies that continually develop these leaders are more likely to retain them and those they manage. Essentials of Effective Leadership is a five-session program that immerses attendees into the effective leader's model of humility, intention, accountability and integrity.
Diamond Credit Union's Greg Keck reflected on the positive impact Essentials of Effective Leadership training made on him and his leadership skills.
"I have begun to 'declare the change' on a consistent basis. My team has noticed this and has been responding well to it," he said.
Emotional Intelligence in The Workplace
Today, employees are confronted with never ending change and a lack of clarity as businesses position themselves for success in an ever-changing business climate. Emotional intelligence is more important today than any time in the last 50 years. The Carnegie Institute of Technology found that 85% of financial success was due to people skills or skills highly related to emotional intelligence.
The technical skills that helped secure your current position may not guarantee your continual growth and relevancy in the organization. If you aspire to be a successful leader, there's an emotional element you need to consider. According to Harvard Business School, emotional intelligence "accounts for nearly 90% of what sets high performers apart from peers with similar technical skills and knowledge." It's what helps employees successfully coach teams, manage stress, manage change, deliver feedback and collaborate with others.
"GRCA's EI Program gave our team a common language to interpret internal and
external interactions. This common language helped us open up with each other and
vendors, moving us towards solutions and away from conflict. I highly recommend
it for mid-level managers and others who have a lot of people-facing work," said Jeremy Zaborowski.
Lessons in Leadership: Excellence in Execution
It's time to prepare your company leaders to reach the next level of confidence and competence.
During Lessons in Leadership: Excellence in Execution, attendees will not only do that, but also will enhance their listening, coaching and presentation skills. Tools gained and utilized in this six-week course increase group synergy that will lead to fewer turnovers.
Learning Objectives include:

Understanding leadership vs. management
Setting expectations and accountability
Enhancing listening skills
Developing effective coaching skills
Enhancing presentation skills
Practicing effective strategic thinking
Solving problems and making decisions
Lessons in Leadership: Leading Today's Workforce
Keep the momentum going by sending your employees to Lessons in Leadership: Leading Today's Workforce. This six-week course will hit all the high notes when in comes to being a great leader. From coaching for improved performance to counseling correction, these interactive sessions will give you the advanced skills to be successful in today's work environment.
Car Tech's Pam Voydik said she gained many new tools from the class.
"The classes are a cornucopia of tools for any leader — new ways to problem solve, strategize
on project and conducting proper interviews. It offers something for everyone," she said.
Learning objectives include:

Building effective teams
Thriving during change
Listening power for leaders
Coaching for improved performance
Counseling for correction
Creating and building a high-performance culture
Advanced time management for leaders
The five dysfunctions of a team and how to avoid them
Sales Methods & Mastery Training Program
2-day course
Chamber members: $795/person
Future Chamber members: $995/person
This two-day course is ideal for anyone who has a career in sales. From sales professionals to sales managers with any level of experience, there is something for everyone. You will learn easy-to-use tips, techniques and methods to level up your sales performance immediately. Sales objections become opportunities instead of obstacles with mastery methods that anyone can apply. Make your sales easier with an efficient process of selling starting with the cold call and ending with a closed deal all while creating a great customer experience.
Day One Learning Objectives Include:

The Art & Science of Selling
Becoming an Order Maker instead of An Order Taker
Creating Value Propositions
Creating Sales KPIs & Metrics
The Process for Closing the Deal
The Process of Asking for Referrals
Creating the Customer Experience
Day Two Learning Objectives Include:

Developing Your Confidence
Understanding the Four Types of Sales Objections
How to Control the Objection Process
Knowing the Difference between Objection and Rejection
Mastering the Self-Disclosure Loop
Learning the HELP Method
Getting Micro Commitments
Computer skills Training
computer skill training offerings:

Intro to Microsoft Excel
Intro to Microsoft Access
Intermediate Microsoft Excel
Advanced Microsoft Excel
What's New is MS Office
Intermediate Microsoft Excel
Advanced Microsoft Excel
Intro/Advanced Word
Intermediate Microsoft Access
Advanced Microsoft PowerPoint
Intro to Microsoft Excel
Intermediate Microsoft Excel
Advanced Microsoft Excel
What's New in MS Office
To check when we're offering these programs next, check out our Training Calendar, or call 610-898-8386 for more information.
Customized professional Development Programs
If the above training options are not quite suiting the needs of your company, GRCA offers Customized Professional Development Programs. Provide an out-of-the-box training solution for your team, your department or multiple teams within your organization to experience a professional development program together. Customized training can be held in our facility or on-site at your location.
To learn more about customizing your professional development experience, contact Mark Dolinski, VP of Training & Professional Development, at 610.898.8386.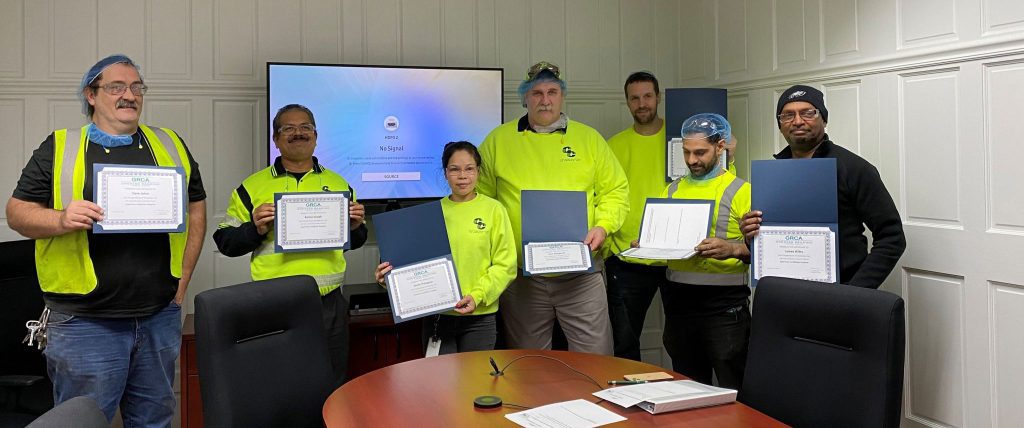 Good communication in the workplace is the key to success. If you have a language barrier, Greater Reading Chamber Alliance's ESL training can help facilitate good communication and understanding in your workplace.
In an ever-diverse workplace, GRCA's ESL training can give your employees the support and confidence they need to communicate. These trainings are fully customizable based on your company's industry, priorities and, of course, the needs of your employees.
Contact Mark Dolinski, VP of Training & Professional Development, at 610.898.8386 for a complimentary conversation on ESL training options.
Training opportunities are open to all Greater Reading businesses, GRCA members receive special discounts. To learn more about our professional training and development offerings, contact Mark Dolinski, VP of Training & Professional Development, at 610.898.8386.
Contact us